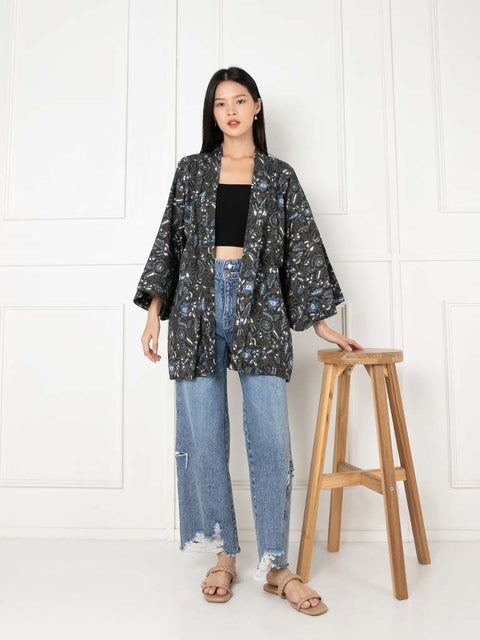 Mriwis | Haori Batik Naturally Dyed
Pickup currently unavailable
Our Japanese inspired 'Haori Jacket' features a 'mriwis' motif for effortless and gender neutral styling.
The wandering whistling duck or often called "Mriwis" in Javanese, is a magical bird believed in local folklore as an incarnation of Prabu Angling Darmo, a respected King of Malowopati, Bojonegoro in 12th century. Such believe created a high appreciation from the local residents to this particular bird. It is wished that by wearing the motif it will give us a spirit to work diligently in reaching a prosperity.
Responsibly made and naturally dyed with Indigo and jolawe in Gedangsari, Indonesia. 100% Cotton.
Measurements
A: 25.5
B: 52
C: 13
D: 38

This piece lovingly uses natural dyes. Colours and patterns may vary from piece to piece, making each garment one of a kind. Colours may naturally transfer onto light coloured fabrics and will fade with wash and wear. Hand wash with cold water using pH neutral detergent. Dry in shade.